W
elcome to the website on
bris milah
(
ritual circumcision
), featuring Rabbi Paysach J. Krohn, one of the most popular mohelim in the New York, New Jersey, and Connecticut areas over the last thirty years. Rabbi Paysach Krohn is known for the warmth he extends to every family, for his expertise in the performance of the delicate act of ritual circumcision, and for the dignity and charm with which he performs every bris
ceremony
. If you have attended one of his ceremonies, you understand why people remember him for years. He gets family members involved, he explains beautifully the significance of the occasion, and he is attentive to every detail in the planning of the bris and in the aftercare of the infant following the bris.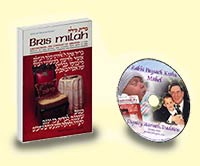 Every family that calls Rabbi Krohn to perform their son's bris receives a complimentary copy of his authoritative book on
Bris Milah - Ritual Circumcision
(published by
Artscroll/Mesorah
.) In the
days before the bris
, the family can familiarize themselves with the history, tradition, procedures, and prayers at the bris. Additionally, every family is sent an
interactive CD-ROM
(produced by
Kol Rom Multimedia
) that guides a family through every step of the
bris ceremony
. This website contains a wellspring of information, which is easy to find and simple to absorb. Feel free to call or email Rabbi Krohn with any questions you may have regarding a
bris
,
naming a child
, or locating Biblical, Talmudic or Medrashic citations about this
holy event
.
IF YOU HAVE ANY FURTHER QUESTIONS, DO NOT HESITATE TO CALL!
MAZAL TOV,
RABBI PAYSACH KROHN, CERTIFIED MOHEL
866.846.6900 (toll free)
718.846.6900 (in NY)
© Copyright 2005 Rabbi Paysach Krohn
Designed by TBIQ Technologies (www.tbiq.com)